The
Donald J. Trump kaiju profile
is the 666th episode of Wikizilla's
Kaiju Profiles video series
. It was uploaded on April 1, 2017.
This video corresponds to Donald Trump, specifically up to March 2017.
To be released
Transcript
Edit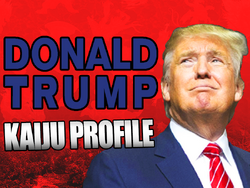 Hey kaiju fans, Titan here, with a profile on the biggest monster to have ever laid siege to Washington, D.C... Donald John Trump!
Donald J. Trump ドナルド・トランプ
To be added.

Read more
Edit
External Links
Edit
Ad blocker interference detected!
Wikia is a free-to-use site that makes money from advertising. We have a modified experience for viewers using ad blockers

Wikia is not accessible if you've made further modifications. Remove the custom ad blocker rule(s) and the page will load as expected.