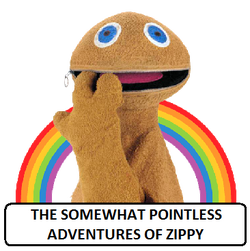 The Somewhat Pointless Adventures of Zippy is a comic created by real people in the real world that began production in 2011. It is a spin-off of the highly successful Wikizilla: Rulers of Wiki comic and follows the adventures of Zippy, the son of Deathrock9 and Rita. The main storyline of the series involves Zippy teaming up with Fox Mulder to search for the aliens that wiped his mind and stole his memories.
CHARACTERS
Heroes
Villains
Neutral
All 30 Issues
Annual Specials
Ad blocker interference detected!
Wikia is a free-to-use site that makes money from advertising. We have a modified experience for viewers using ad blockers

Wikia is not accessible if you've made further modifications. Remove the custom ad blocker rule(s) and the page will load as expected.